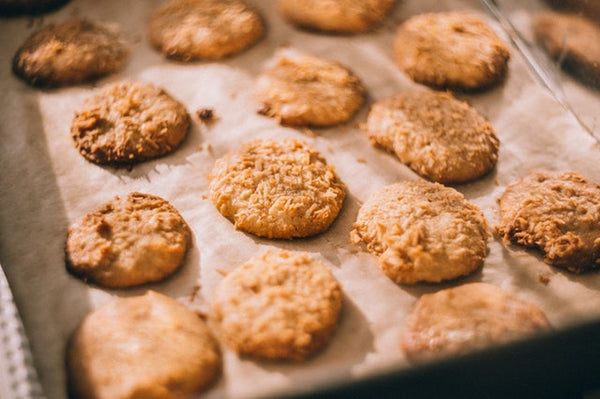 How to Celebrate Peanut Butter Lovers Month with Your Dog
It's the most wonderful time of the year! You're probably thinking we are referring to Thanksgiving or Christmas but that's actually not the case. As self-proclaimed Reese's addicts, we are thrilled to report that November is National Peanut Butter Lovers Month! And, as you can imagine, we aren't the only ones jumping for joy around the office. Dogs across America are wagging their tails in anticipation of the creamy, sweet goodness that this month has to offer. Before you dig your paws into that jar of Jif however, let's take a quick trip down memory lane in honor of peanut butter.
The History of Peanut Butter
Although many credit George Washington Carver with the invention of peanut butter, it can actually be traced all the way back to the Ancient Incas and Aztecs who were known for grinding roasted peanuts into a paste, cool right?! Nonetheless, it was Dr. John Harvey Kellogg, inventor of Kellogg's cereal who put peanut butter on the map as the beloved staple in modern pantries today. November 4, 1895, is the actual day that Kellogg applied for the patent, with National Peanut Butter Lovers Month commencing in 1995 when peanut butter celebrated its centennial birthday.
Health Benefits of Peanut Butter for Your Dog
While humans and dogs alike enjoy indulging in the delicious treat, there really is nothing like sharing it with your best friend. The joy and amusement that comes from watching your dog determinedly working to eat the sticky peanut butter are too cute! The other great thing about peanut butter is that it actually carries a number of health benefits for your pooch. It is an excellent source of protein, healthy fats, vitamin B, niacin, and vitamin E. Additionally, as many of you would agree, it acts as a fantastic decoy for sneaking dog their medications.
Remember to take care, however, when selecting a safe jar of peanut butter for your furbaby. Sugar-free or "lite" peanut butter usually contain artificial sweeteners, such as xylitol, which can be deadly to dogs- even in small amounts. It's best to opt for unsalted, unsweetened, and additive-free peanut butter. The good news is that you don't need to be a master chef to actually make your own peanut butter.  
Homemade Peanut Butter Recipe
All you need is a food processor, a third to fourth cup of roasted peanuts, and a little bit of oil. If you want to really crank up the health factor, use fish oil.  Put the ingredients into the food processor and let it run until you get a smooth consistency, that's it! Now you can let your dog have small spoonfuls as a treat or make your own peanut butter dog treat recipe. Try the simple recipe below.
Easy Peanut Butter Dog Treat Recipe
Ingredients:
2 cups whole wheat flour
1 ½ teaspoons baking powder
⅓ cup dog-friendly peanut butter
1 cup hot water
Directions:
Start by preheating the oven to 375 degrees. Mix the flour and baking powder in a large bowl. In a separate bowl, mix the peanut butter and hot water until it is smooth. You may need to add more hot water if the dough is too dry or more flour if it has too much liquid. Now, roll the dough to a thickness of about ¼".  Use cookie cutters to create adorable shapes, then place them on a cookie sheet. Bake for 20 minutes or until lightly brown.
For those of us that may not have the proper equipment or time to make your own homemade peanut butter or follow a peanut butter dog treat recipe, buying natural dog treats that have peanut butter works just as well.
Another fun way to get your dog into the spirit of Peanut Butter Lovers Month is to use an interactive feeder. Food puzzle toys are also great for filling with peanut butter and they are sure to keep your pal entertained for a while.
However you choose to celebrate Peanut Butter Lovers Month remember to keep your furry friend safe and have fun!