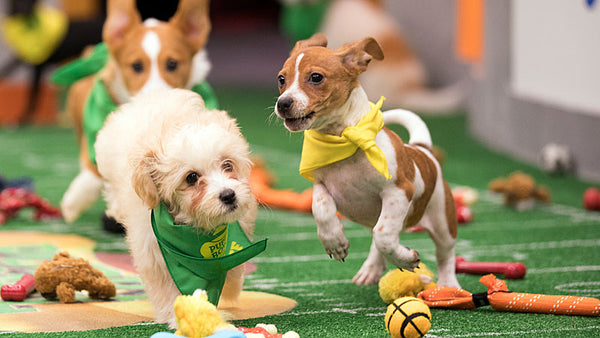 Pupaholic Exclusive: Puppy Bowl XIV Recap
As expected, Puppy Bowl XIV was one of the most adorable games aired on Animal Planet. Hearts across the country were melted by the irresistible doses of cute that ruff-housed, napped and played. There was a tight chase in pursuit of the Lombarki Trophy between Team Ruff and Team Fluff.
A Dog-Gone Good Game.
The 2018 Puppy Bowl was a genuine pull of-war between Team Ruff and Team Fluff, with each side determined not to submit resulting in a close game throughout a large portion of the event.
The fourteenth year of Puppy Bowl set champion against champion, Team Fluff came back to attempt and sending Team Ruff back to the locker room with their tails between their legs once more. Last years score of 93 to 38 was harsh on the Ruffs, yet these dogs weren't going to simply sit down and play dead. Team Fluff ultimately won, however, 52 to 47, over Team Ruff to bring home the esteemed trophy.
Here's How it All Went Down.
Kaleb Junior found an opening to get into the end zone that secured Team Fluff's second in a row Puppy Bowl title after trailing 47 to 45 in the remaining thirty seconds. The proclaimed dog who brought home the current year's MVP, Bear, managed to keep his nose to the turf as well as his paws on the ground as he ran a lofty touchdown running with the finesse of an Obedience School valedictorian.
While a number of other dogs goofed off, Bear jogged the entire length of the field for one of his two puppy touchdowns during the last part of the first half. Teammate Sally additionally gave pursue of the Most Valuable Puppy managing to run with two touchdowns by herself, putting up impressive scores against Sally's huge Coonhound ears.
Ruff side, J-Paw demonstrated the possibility getting the greatest score with two touchdowns with Miniature Poodles earlier in the game. All the puppy contenders left everything on the field in this years game. We also have to point out the team uniforms, yellow and green bandannas detailed with the Animal Planet logo.
The Winners.
What's more, is no puppy was left in the doghouse, as Animal Planet found forever homes for each of the all-stars. Puppy Bowl XIV was a huge success not only in terms of the game or adoption but also in ratings. In the end, it was Bear who achieved the greatest play of the day, winning the pined after, Most Valuable Puppy. The way we see it, all the dogs got what they all really wanted- a safe, happy and loving home to call their own.
No doubt, all the puppies were dog-gone tired after that game and we at Pupaholic think they all deserve to celebrate their victories with delicious and natural treats from Sojo!
All image credits: Animal Planet