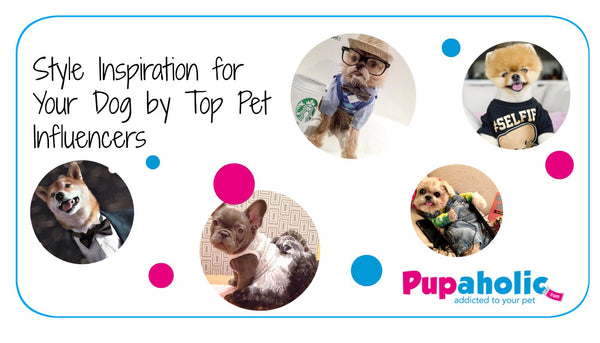 Style Inspiration for Your Dog by Top Pet Influencers
If you have an Instagram page then chances are your friends with at least one of these popular dog influencers. Not only are they adorable, inspiring, and hilarious, they also have some serious style! If you are looking for some style inspiration for your pooches wardrobe this new year then take it from these fashion savvy pups. While they may be paying top dollar for their celebrity attire, you can get the same looks for a fraction of the price, right here at Pupaholic!
@MarnietheDog
Marnie is hands down, one of the most inspirational dog influencers. She was adopted from a shelter at age 11 and advocates for adopting senior dogs. With her signature paralyzed tongue you can't help but love everything about this little lady. Of course, that also includes her young and hip wardrobe. Marnie in overalls is #fashiongoals! Get your BFF a pair by visiting our outfits and jumpsuits page.
@JiffPom
There aren't too many dogs that look as adorable in a graphic tee as JiffPom, but your dog can be one of them! Graphic tees can help express your furbaby's personality in a fun and hilarious way. From "Bad to the Bone, Life's a Beach, I'm Sexy and I Know It, and tons more, these are hilarious shirts you have to see to believe! Seriously, if you're looking to turn heads while keeping your pooch cool and comfortable than look no further than our selection of graphic tees.
@MenswearDog
If we had to pick just one dog for your male pooch to take style inspiration from, it would be Bodhi aka Menswear Dog. As the "Most Stylish Dog in the World," this dapper Shiba Inu has modeled for some of the top fashion houses in the world including Coach, Victorinox Swiss Army, Ted Baker, American Apparel, Brooks Brothers, Salvatore Ferragamo, ASOS, Hudson Shoes, Revlon, Todd Snyder, The Tie Bar, Polyvore, Purina, and the list goes on! To get his classic tuxedo style click here.
Penny the Frenchie (from @HenryandPenny)
Penny has both brains and beauty! According to her profile, this sophisticated French Bulldog went to school but is pursuing a modeling career. She is the life of the party and always dresses for the occasion! How fabulous does she look in that party dress?! Penny also enjoys giving kisses, cuddling, and tagging along with her older brother, Henry. If your pup needs to glam up for a special event or needs a stylish casual outfit, check out our vast selection of dresses for the pampered princess in your life.
@MrMonks
Mr. Monks is the king of memes in the dog influencer world and a celebrity in his own right. That means looking his best no matter what situation or event may arise. The self-proclaimed aspiring male model looks especially handsome in his signature glasses and blue argyle sweater. If your pooch loves this look, you can get your pooch his (or her!) very own argyle sweater in blue or red.
Pupaholic would love to see your dog rocking their favorite Pupaholic outfits. Be sure to tag us with #pupaholic to get featured on our Instagram!