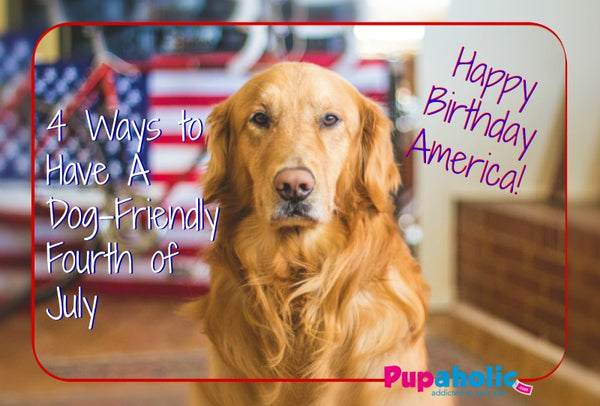 4 Ways to Have A Dog-Friendly Fourth of July
The Fourth of July is a holiday full of food, fun, fireworks, and festivities. It is a wonderful holiday for humans and dogs alike.  There are some things to keep in mind, however, if you want to keep your favorite four-legged friend safe during the celebration. 
The Fourth of July and fireworks go hand and hand.
While most people love fireworks, many dogs do not share the same excitement. Fearful dogs will benefit from staying home during firework displays. Dogs find comfort in familiarity, and the comfort of home may help keep them safe and calm.
If a firework display will be close to home:
Leave a radio or television on to help lessen the noise from the fireworks.
Take dogs outside for walks or bathroom breaks before firework displays.
If a dog has a comfort item, such as a blanket or crate, make sure to have them available.
Closing curtains and blinds is another helpful tip if fireworks will be set off near a dog.


BBQ's and get-togethers are also common on the Fourth of July.
People who are not normally around dogs will likely be around. All party guests should know to not feed your dog any table scraps, as they could potentially cause your pooch harm.
There are some foods, such as chocolate, avocado, grapes, coffee and onions that could be deadly to a dog. Another important tip is to keep alcohol out of the reach of a dog. Even a small amount of alcohol could poison, intoxicate or even kill a dog.


Keep all sunscreen and insect repellent off of a dog unless it is specifically designed for pets.
If these products are eaten, or if a dog licks them off of themselves, they could become ill. Matches and lighter fluid are commonly used on July Fourth, and both could be deadly if eaten or ingested by a dog. Glow sticks and citronella candles are both very common during the holiday. These items, like the others we have discussed, can be harmful or deadly to dogs as well.


Always be prepared to lose a dog.
Dogs should always have proper identification, be currently licensed and microchipped. Every dog should have an updated photo as well. The uncommon sounds and unfamiliar people may cause a dog to leave their residence out of fear. Having all of this info will make it quicker and easier to alert neighbors and the community if a dog does manage to escape their home.

Dogs are a part of the family and should be included in activities. Remembering the important tips that were discussed will make the holiday fun and enjoyable for everyone, dogs included.