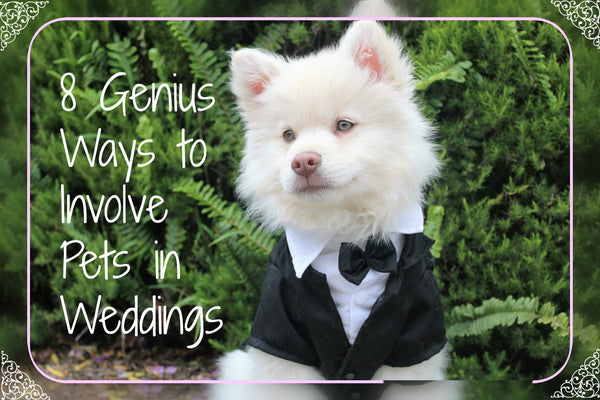 8 Genius Ways Include Your Pet in Your Wedding
Wedding season has officially begun and there is nothing that is more special than including those that are the nearest and dearest to you to join in the celebration. However, this isn't just a role that is limited to your human family and loved ones! Many people nowadays are also including their furry (or scaley, feathered, etc.) friends to help them make their wedding day all the more special and adorable.
You may be at a loss on how you can include your beloved pet as you make your way down the aisle but don't worry- we're here to help! We are going to count down eight different ways that you can incorporate your pet in your wedding, and make it the most memorable day for all involved.


The Grand Entrance
Many pet lovers are taking the opportunity to give their beloved animals a chance in the spotlight! You can do this in a variety of ways, including their own sign that announces the arrival of the bride. Your guests will definitely 'Ooh' and 'Aah' at your adorable sidekick.


A More Subtle 'Taste'
There are, obviously, many ways to incorporate a dog at your wedding, but if you don't think that they will do so well in person at the ceremony, you can incorporate them in other ways! One of the best places to feature your pet is with a unique and one of a kind cake topper that will make your wedding cake a true work of art.

Save The Date Memory
If you don't think that your furry friend could handle the crowd on your actual wedding day, you can still make a lasting memory by having them make an appearance in your 'Save the Date' cards or other engagement shots. This way, your friends and family will get to see a unique 'Save the Date' come in the mail, and you will get an in-hand memory to last a lifetime.


Take Home Favors
Every wedding comes with some of the most creative and wonderful favors to help everyone remember the day you became a happy couple. You can take this idea of favors up a notch by making some that are pet-friendly as well. Show your love for furry friends with favors that include treats or other fun things for pets that are at home.

Make Way For The Flower Pet
If your furry friend is good around crowds, you may be able to have them make a feature alongside flower girls in your wedding. Let them walk alone decked out with some of your wedding flowers, or customize your own flowered leash for your Flower Girl to hold onto as they make their way down the aisle.

A Bit Of Charm
One great way to include your favorite animal on your wedding day is keeping them close to you on your bouquet. You can find ways to create a beautiful charm with your pet's photo to attach to your flowers and keep with you as you go about your big day.
Goldfish Love
This is probably one of the most clever ideas we have seen! If you and you're significant other both have goldfish that you love and care for, make them a part of your big day by uniting them as a family. You can incorporate their 'coming together' in a twist on the unity candle by putting them in one bowl as part of the ceremony.


Let Them Walk You Down The Aisle
If you are feeling the vibe of having them walk down the aisle, but want it to be more special to your story, why not have them walk down the aisle with you on your big day? Whether it is after the vows, or before the journey begins, you will never forget their role on your wedding day for many years to come.


As we mentioned before, there are many different and unique ways that you can include any and all of your pets on your special day. The sky is the limit, and you will always have that cherished memory of your furry friend making your wedding all the more wonderful. Be sure to shop Pupaholic for the cutest and fanciest wedding day attire for your big day!