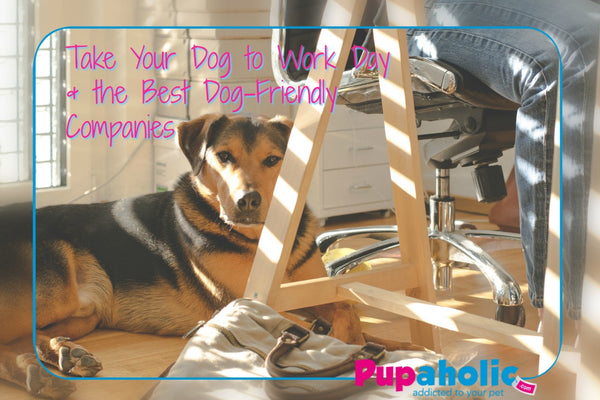 Take Your Dog to Work Day & the Best Dog-Friendly Companies
If you have a dog, or other pet, in your home, you know the feeling of having to leave them behind during the day while you make the long trek into the working world. For some, leaving these beloved creatures and pets can be a difficult challenge, even if it is just for a few hours each day. However, in our day in age, we are finding that there are more and more companies making the switch to allowing animals in the office, and it has also shown to have some major benefits for both the humans and fuzzy faces that take part.
In fact, it has become so widely popular that the Friday following each Father's Day is dubbed 'Take Your Pet To Work Day', and is celebrated in various countries. In this article, we are going to give you the inside scoop about 'Take Your Pet To Work Day', what to know about it, and we'll even give you our own countdown of some of the best companies to work for if you want to bring your furry friend to work with you. With all that said, let's get started!

How It All Began

Believe it or not, 'Take Your Pet To Work Day' has actually been around almost two decades now, making its first appearance back in 1999. It was initially founded by Pet Sitters International, and in its first year, about 300 companies took part in the holiday. Since then, the holiday has continued to make a name for itself and has also helped to raise awareness for homeless and shelter animals all over the world. In 2003, on its 5th annual celebration, the holiday was celebrated by about 5000 companies, and the total continues to rise each and every year.


How Can You Celebrate 'Take Your Pet To Work Day'?

It may seem pretty easy and self-explanatory when it comes to celebrating 'Take Your Dog To Work Day'; However, there are some helpful tips for making sure it goes off without a hitch for you and your furry friend. To top the list of tips, it is always best to make sure that your office or place of work is okay with the idea of your bringing your pet to work with you for the day. If you get the 'okay' from your boss, then take the next steps to make your office ready for an animal to spend the day.
It's always good to make sure that you animal proof your office space in case there are any accidents to be had. Also, make sure that you pack a bag of items that can help occupy your pet during his or her visit- such as toys, food, a pillow, etc. Finally, it is crucial to make sure that your pet is indeed ready to make a visit among people that he or she may not be familiar with, as we will discuss in the next section.


How Do You Know If Your Pet Is Ready?

For many animal lovers and owners, their pets are quite sociable, and have no trouble meeting and spending time in an area with strangers around. However, it is important to make sure that bringing your pet to your workspace is not only okay for the humans that you interact with, but also for your furry friend as well. If they are often timid around others, or even defensive or aggressive, it may not be the best option to bring them to celebrate the day. This can also be the case for a pet that may not be so well trained, especially if they are in the true puppy stages of their life. Make sure to take all of these factors into consideration to make sure that bringing your pet to work is really the best idea.

With that said, if you take your pet to work, and discover that it might not have been the best idea, make sure that you have a plan set to get them back to the comfort of home, or with a family member who can spend time with them until you are finished with your workday. Being prepared is key, and will make your celebration of 'Take Your Pet To Work Day' all the more entertaining.


So, What Companies Allow Pets In The Office?

Luckily for you, if you and your pet are inseparable, there are companies now that allow for pets to be in the workplace with you not just on 'Take Your Pet To Work Day', but every other day of the year as well. Here is our list of companies that allow for your furry friend to join in the work day fun:

1. Amazon
Amazon is one of the largest companies with over 200,000 employees worldwide, has worked to make their many office's pet-friendly over the years. The Seattle based company has even dedicated time to sell calendars of dogs in their offices, with some of the proceeds going to the ASPCA.

2. Bissell
Bissell is known for its many cleaning products that work to make our homes all the more livable, especially for those with pets in the house. The company has worked to make having a dog in the office possible by creating a specific space with individualized workspaces, kennels, a fenced in yard space, and other unique details, which they have called the Pet Spot.

3. Google
Google is a company that is often known for the quirky policies that it allows for its more than 55,000 employees, and this also includes allowing pets in some of its offices throughout the nation and the world as well.

4. Etsy
Headquartered in Brooklyn, New York, the company of about 1000 employees is known for its e-commerce business for handmade and other items that are sold online. The company has been working with a dog-friendly office environment throughout its thirteen-year run.

5. Purina
This seems like one of the more obvious companies on our list, but Purina has made the effort to make their offices as pet-friendly as they can be. Throughout the years, the company has even launched their own campaign, which is called Pet To Work, and works to help bring pet-friendly offices and policies to other companies in the nation and throughout the world as well.

6. Mars, Inc.
Not only does the Mars, Inc. company brand make chocolate, candy, and other produce, but they also work in the pet care industry as well. The company has made statements about allowing pets in the office in all of their locations, which are located all over, realizing the effect that animals can have on behavior and mentality, even in the work environment.

7. Hubspot
The company produces software equipment and products and allows pets in the office on a day to day basis. The company itself is located in Cambridge, Massachusetts, and has a little over 1000 employees onboard.

Dogs and other pets have certainly made their mark in our lives, even going so far as to make the journey with us to work each and every day. Whether you are wanting to commit your time to a pet-friendly company, or whether you are just wanting to celebrate the upcoming 'Take Your Pet To Work Day' this June, we are loving that so many companies and workspaces are embracing the love between human and animal.
Check out other Dog Holidays here!